Easy-to-use wheel guarding device moves cords and hoses as you work
Made from a high-density polypropylene structural foam – specially formulated to be light-weight, yet rigid and durable – CASTrGARD easily attaches to your equipments' casters to conveniently and safely push aside cords and hoses as you navigate through your work environment.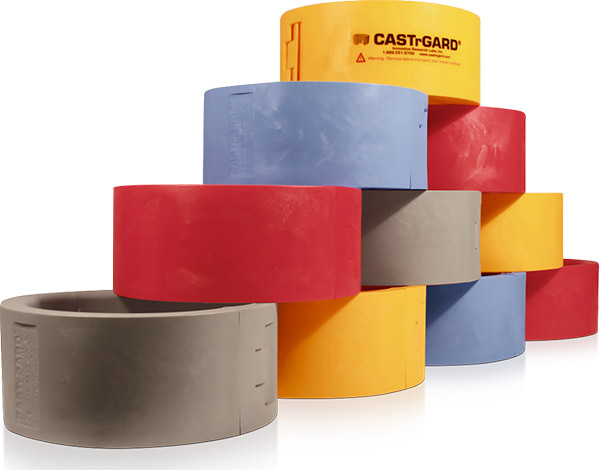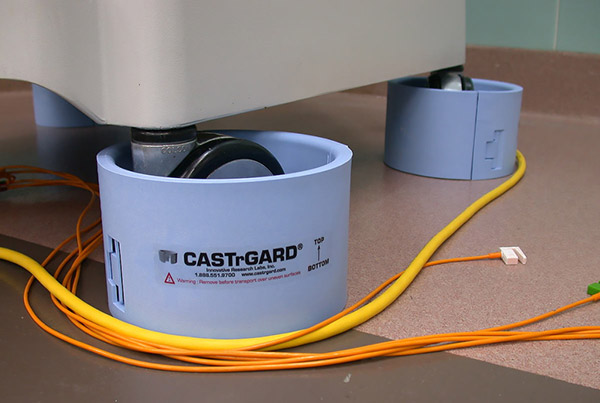 Features – Advantages – Benefits
Cost Savings. CASTrGARD protects expensive cables, probes and wires, leading to significant cost savings of almost $1,000 per year per operating room. Plus, you'll see time savings and fewer hassles.
Patient Safety. Designed by a medical doctor and engineer who understands the clinical environment, CASTrGARD eliminates the need to stop monitoring your patient to clear a wheel obstruction.
Low Price. CASTrGARD costs less and surpasses the performance of alternative devices. The low-price results in a fast return on your investment, estimated to occur in less than three months.
Easy-on, Easy-off & Effective. CASTrGARD is quick and simple to attach and remove without requiring complex instruction manuals or usage procedures. Our superior one-piece design is the most convenient wheel guard device available without parts to lose or adjust. CASTrGARD conveniently moves cords and hoses as you move your equipment.
Available in three sizes and four different colors.
Anesthesia Equipment Rental is Possible
Are you wondering if renting is right for your facility? It certainly can be.
Have a question?
We have experts who can answer.
Your resource for the anesthesia machine and medical gas answers you need right now.
Interested in Purchasing Anesthesia Equipment?
We can help you find the refurbished anesthesia machine you're looking for.