Airway Clearance Products
Offering non-invasive airway equipment with patient comfort in mind
To ensure we're able to meet your needs for airway devices, we have supraglottic devices such as the i-gel® the Frequencer® at the ready for you. We are educated about this equipment and can offer expert recommendations regarding purchasing, upgrading and servicing.
The i-gel
Reasons to use the i-gel?
What makes i-gel unique?
The Frequencer
The i-gel

Made from a medical grade thermoplastic elastomer, i-gel has been designed to create a non-inflating, anatomical seal of the pharyngeal, laryngeal and perilaryngeal structures while avoiding compression trauma.
i-gel has an established reputation in anesthesia with three adult and four pediatric sizes in the range, ideal for use with patients who weigh 4.4 pounds to 198+ pounds. In 2012, the indications for use were expanded to include use as a conduit for intubation (with fiberoptic guidance for i-gel sizes 3, 4 and 5).
We supply i-gel in an innovative, color-coded polypropylene protective cradle or cage packaging.
Reasons to use the i-gel?
Ease and speed of insertion
Reduced trauma
Superior seal pressure
Gastric access
Integral bite block
Non-inflating cuff
What makes i-gel unique?
i-gel has a soft, gel-like, non-inflating cuff, designed to provide an anatomical impression fit over the laryngeal inlet. The shape, softness and contours accurately mirror the perilaryngeal anatomy. This innovative concept means no cuff inflation is required.
Working in harmony with the patient's anatomy, compression and displacement trauma are significantly reduced or eliminated.
The Frequencer
The Frequencer provides airway clearance therapy and promotes bronchial drainage by inducing vibration in the chest walls. This device is intended to be a component of chest physiotherapy by providing a convenient method of external thorax manipulation. The Frequencer is indicated for patients who have respiratory ailments that involve defective mucociliary clearance, as typically seen in patients suffering from cystic fibrosis as well as chronic bronchitis, bronchiectasis, ciliary dyskinesia syndromes, asthma, muscular dystrophy, neuromuscular degenerative disorders, post-operative atelectasis and thoracic wall defects.
For hospitals already acquainted with ultrasound and scanners, which operate at a very high frequency, the Frequencer generates low frequency within the range of 20-65Hz and offers an adjustable intensity based on the patient's condition. Sound used at low and very low frequencies offers a completely new range of specific and targeted treatment possibilities in airway clearance.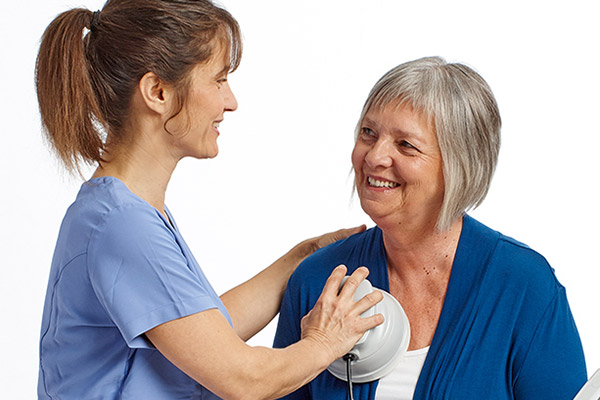 Have a question?
We have experts who can answer.
Your resource for the anesthesia machine and medical gas answers you need right now.
Interested in Purchasing Anesthesia Equipment?
We can help you find the refurbished anesthesia machine you're looking for.

Anesthesia Machine Service & Repair
Our certified, top technicians bring you replacement parts, provide advice and repair major brands and models of anesthesia machines whenever you need it.